Life with purpose
Find balance in life with
Specialized Coaching
Reach New Goals, Manage Transtions and Find Greater Satisfaction in Life
Are you tired of feeling stuck, frustrated & unable to accomplish your goals?
Our coaching experts can help you to get you out of the struggling with defining goals. Life Coaching helps you develop and implement an action plan according to your specific needs. Indentifying strenghts, formulation a plan, and following through.
Get started today on a plan that is personalized and designed to fit you and your life to help you acomplish your goals.
Life Coaching
Helping you to better manage life transitions, accomplish their goals and improve the quality of their lives.
Business Coaching
Become a confident business professional. Improve clarity and confidence to run your business.
Health and Nutrition
Change your relationship with food. Kick start your transformation to newer and healthier habits.
Executive Coaching
Jump on a transformative leadership journey. Empower your team. Become a better manager or leader.
Wellness Coaching
Deepen your connection with your body, resolve health concerns, and cultivate a healthier you.
Holistic Coaching
Achieve greater fullfilment in your life. Expand your personal potential with a clear connection to body awareness.
What is Life Coaching? Is it Right for Me?
Whether you call it life coaching, executive coaching, or wellness coaching our wellness professionals are trained and experienced in helping people make change happen. A Coach helps bring organization and focus as you navigate life transitions with intention and purpose to create your step-by-step action plans.
Our Approach
In this process the coach becomes a collaborative partner with the clients, guide them by questioning to find the answers and teaching them skills so they can get where they want to be awakening their fullest potential. The coach must never diagnose neither treat mental health conditions.
The Process
The goal is to help clients to develop skills, reduce the symptoms, and deal with various life changes to have a better and stable emotional life. A therapist will diagnose and make treatment plans to help clients find their strengths and overcome their presenting problems. Let's move forward!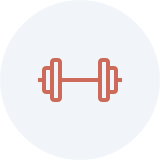 Feel empowered & inspired
Having Trouble Finding Balance in Life?
Time to Get Inspired, Motivated and Empowered to Reach your Profressional and Personal Goals.
"I have a more positive outlook on life and have better tools that I can use in the future when I am faced with new obstacles. Now  I can see now the patterns in my life. I'm an entrepreneur. I'm a real estate investor. I'm a Mom.. Overall-it's been a real positive experience"
"Andrea has helped me to connect more deeply with my values and take actions to achieve what most important to me. As soon as this journey started, right away she made me feel comfortable.  She's is very empathetic and professional."
Frequently Asked Questions
FAQ's
What is coaching?
Coaching is a powerful, ongoing relationship that helps you focus and realize your visions and goals. 
How does Coaching work?
Typically, individual coaching is done by Zoom conference, for an agreed upon number of sessions per month for a set amount and duration.
Is coaching Therapy?
No, Coaching is not therapy nor is it an attempt to heal emotional trauma.
Therapy focuses on mental health and emotional healing, while life coaching focuses on setting and achieving goals.
What is a typical coaching session like?
The client sets the agenda for the session and the coach follows that agenda.
Life coaches use their active listening skills along with assessments, they are often able to uncover your deepest desires and the right goals will come to light.
You can expect powerful and clarifying questions to be asked.
How long are the sessions?
Sessions are typically 50 minutes long, but we also have special packages available with 30 and 45 minute sessions, this special packages are only available upon request with our support team. Feel free to contact us if you are interested on this shorter sessions.
Where do sessions take place?
Sessions take place via Zoom call. Click here to schedule your sessions.
Get Coaching!
Start your transformation journey today